Beliefs
We don't have a real tight theological grid you have to fit through to come in the door.
We are, first of all, followers of Jesus, engaged in the adventure of learning to live according to the words God speaks to us in the Bible. After all, we don't get to choose who our brothers and sister are, that's up to our Father.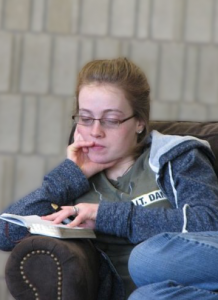 Yet theology is important to us. How we understand God's Word shapes the way we understand God and the way we live our lives.
An abbreviated statement of what we believe:
We believe the Bible is the authoritative Word of God.
We believe that there is one God, eternally existent in three persons: Father, Son and Holy Spirit.
We believe in the deity of our Lord Jesus Christ, His virgin birth, sinless life, miracles, atoning death, resurrection, ascension and personal return.
We believe that only through faith in the Lord Jesus as our Savior can we be reborn.
We believe Holy Spirit gives us the power for ministry (service) and godly living.
We believe in the spiritual unity of believers in Jesus Christ.
The full statement of our family of churches, the Brethren in Christ, is here.
For the theologians among us
Historically, we have our roots in four movements of the Christian Church. Each of these groups of people, in their own times and places and differing situations were trying to move back closer to a Biblical understanding of the church:
the Anabaptists, or "Radical Reformers," who believed that the church ought to be different from the world and the Bible should guide all of life,
the Pietists, who were desperate not to lose warm, personal, authentic relationship with God in the midst of forms and traditions,
the Wesleyan Holiness movement, who understood that God didn't just change our position with Him, but wanted to radically change our actual, where-the-rubber-meets-the-road, daily lives to reflect the beauty of His holiness.
the Evangelicals who stressed two things above all others: the necessity of personal commitment to Jesus as Savior, and, the sufficiency of God's Word, the Bible, to guide all of life.
New? Here's more: