Sunday Morning 9:30 AM
We gather to worship, celebrate, learn, and be family (also livestreamed).
Our gatherings are pretty laid back (no dress codes here) and vary from week to week, but usually include these elements:
Sharing/Praying together
The Apostle Paul, in Eph 4:16, said "From him the whole body…grows and builds itself up in love, as each part does its work." Usually we have an open microphone for members of the congregation to share a scripture, story, insight or prayer request.
Praise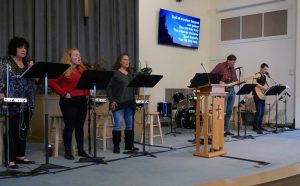 At SBIC, we believe that worship is our heart's response to understanding who God is and what He has done for us through a relationship with Jesus Christ. In our Sunday morning praise & worship time we draw on contemporary musical styles to lead us into focusing our minds and hearts on the Lord. Together we worship God with all our heart, soul, mind, and strength. Of course, worship is not limited to our time together on Sunday morning but is lived daily in our service to each other and in reaching out to those in need.
Message
God's Word is authoritative, practical and life-giving. We believe it should be preached the same way. Our Senior Pastor, John Fickett, has an engaging and dynamic style to convey biblical truth in an interesting, relevant and down-to-earth way. Recorded sermons are available on the site.
Kids participate in our Sunday morning gatherings. They often have a special time up front with the Pastor, they enjoy worship with their families, and they share in the offering. Most Sundays, during the sermon, they are dismissed to [email protected] for their own learning time.
---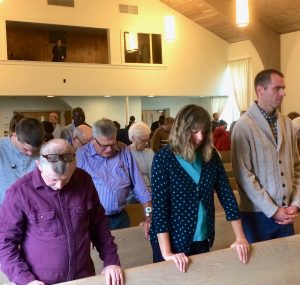 Our goal is that you leave each Sunday:

built up by God's people
refreshed from having worshiped Him,
strengthened in your family, and
having heard from God in His Word in such a way
that you are changed and empowered to live in a new way.